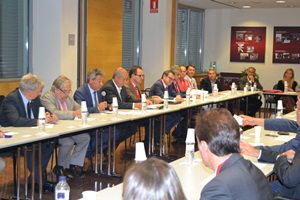 Several Catalan companies and technology centers have visited Germany on a mission led by the Department of Enterprise and Labour of the Government of Catalonia to was to explore technological cooperation projects and advance in the field of industry 4.0, considered the fourth industrial revolution after the arrival of steam.
Germany is considered the leading European country in the development of this new industrial model, which is based on the application of Internet of things, macrodata, robotics and augmented reality in factories and plants, to organize production. The different machines connected, interact and allow to increase efficiency and reduce costs.
Strategic Attention Management, OSNOVA, INLEAN Engineering, Industrias Puigjaner, Hewlett Packard, Girbau, EGO Appliance Controls, Comexi Group, Brose, Biosystems, la Patronal Metal·lúrgica del Bages, AMEC and the technology centers Eureca and LEITAT, have visited Fraunhofer (the research German public body specializes in industry 4.0 and has seventy centers throughout the country), Synapticon (this German company develops hardware and software to connect machines and devices through sensors), and KUKA plant in Augsburg (the company is one of the leading manufacturers of industrial robots in the world).
This approach to innovation mechanisms in Germany has allowed Catalan and German companies and technology centers to share points of view on technological needs and search for technological cooperation projects.
At the institutional level, the Ministry of Economics Baden-Würrtemberg has received the Catalan delegation, headed by Pere Torres, in the context of the Four Motors for Europe and the economic relations between the two regions. The Ministry of Economics Baden-Würrtemberg has shared its experience in Alliance 4.0, a public initiative to boost the industry 4.0 in the region.
In late June, the governments of Catalonia and Germany launched a new program to encourage bilateral aid to Catalan and German companies to develop joint R&D and innovation projects. ACCIO is also helping Catalan companies find German partners for their projects. There are open initiatives and aids with Israel and Chile.